Chinatown is a crucial part of Bangkok's multi-ethnic communities that scatters about Bangkok's vast urban expanse. The history of the city is mostly told through lens of the founding of the current dynasty and Bangkok as its capital. Less is known about the fascinating origins of the largest, most authentic and most successful Chinatown in the world which emerged in parallel just outside the city walls.
As part of a blog category on Bangkok's neighbourhoods I will take you on a historic journey deep into the roots of Chinatown. We'll be exploring the neighbourhood between Sampeng Lane and Song Wat Road and places to be nostalgic, to spoil your taste buds and to wind down away from the tourist crowds. We'll meet the keepers and Newcomers, those who preserve and those who reinvent their heritage. Each person in this story is linked to a dedicated portrait to learn about Chinatown through their perspective. I will update the blog and hope you'll enjoy this journey into the past, present and future of Sampeng.
Why does it matter to explore the origins of Chinatown?
Searching the origins of Chinatown is a fascinating journey to decode the historic urban DNA in a part of Bangkok that is many things to many people. City officials demarcated Chinatown as the Samphanthawong district. Street food fans swear on Chinatown's Yaowarat Road. Shoppaholics are maxing out there QR code payments in Sampeng. Millennials and Gen Z turn their attention to Chinatown's Talad Noi community and hipsters sip their craft beer in Soi Nana while in between and across Chinatown countless shrines and temples serve as places of ritual, worship and memory for the oldest living civilisation and world's largest Chinese diaspora.
Coffee, Chinese deities, hidden alleys. Bangkok's Chinatown is many things but what was it at its core for most of the time?
2. From gateway of Thailand to the gateway of Sampeng
What's the best way to get to Chinatown in Bangkok?
Throughout most of Thailand's existence, traders, foreign missions, missionaries, immigrants and sailors entered the kingdom through the Chao Phraya River. Using the public river express boats to travel along the river is one of my favourite ways to reach the older neighbourhoods of Bangkok and it's a highlight for many Bangkok visitors. It's a form of slow travel. It provides a wide and magnificent view, the sound of the river life and the wind make it a journey of the senses.
The scream of the engine is pierced by sharp whistle blows that stretched the quality of my eardrums. The boat assistant signals the captain to slow down as we reached our destination. Barely 20 minutes have passed to travel from Sathorn pier to Chinatown's Ratchawong pier. I'm usually lost in thoughts as I gaze the passing landscapes of the city. Bangkok's old town is where the water is, along the river, the canals. It had been the city of water, the Venice of the East, an amphibian city for most of its history. Traveling by boat has a meditative and calming quality. Many commuters swear on this river trip as a stress relief to the city's endless traffic jams.
Bangkok's Riverine areas in the 19th century. Prior to 1890 there were no more than five streets in Bangkok.
Photo source: Thaifoodmaster.com (great info there)
160 years ago, Ratchawong Pier was the gateway to the world and a symbol of the developments post 1855 (Bowring treaty) which saw the introduction of the free market ideology and tore Siam out of its isolation. The Chinese tycoons of Sampeng didn't want to stay behind and upgraded their fleets from Chinese junks to steamships. They opened Thailand's first passenger steamship service in 1858 linking Bangkok to Singapore and in 1861 to Hong Kong. The days when the fate of migrants depended on where the monsoon winds would carry their junks came to an end.
160 years later, the role of the Pier has been degraded to a nondescript public pier. As I walk up the ramp, it's hard to believe that this was a quantum leap for Thailand's development. Only a few rotten stumps remind you of the landings that once served the immense flotilla of Chinese junks, coastal steamers and fresh water crafts at Sempeng's river front.
As a major transportation hub, the Ratchawong neighbourhood developed into an important international business hub with banks, logistics, trade and insurance companies. This was the golden era and while trishaws, rickshaws and trams that once served people disembarking here are gone one can still marvel at the architectural remnants of those days or haggle with Tuk Tuks and motorbike taxis.
 Walking down from the pier into Ratchawong Road at the turn of the 20th century. Photo source: Bangkok's Islamic Archive
Europeans, Chinese and Indian traders set up major businesses. Here the Maskati Departmentstore. Photo source: Bangkok's Islamic Archive
"Hellloooh mai friieen, where you goo?"
This is the standard "Tuk Tuk driver greeting" once a Tuk Tuk driver spots you. But not here. Ratchawong isn't a pier where many tourists get off and yet, the body language of the driver still says: You want Tuk Tuk? No, where we go, there's not enough space for a Tuk Tuk to enter. Exploring Sampeng is best done on foot as we go deep into the alleys to find the oldest surviving remnants of Bangkok's Chinatown.
Showing my tour guests the architectural heritage of bygone days at the Ratchawong Pier 
It's a busy day, trolley pushing migrant workers and old Italian Vespas stacked with piles of stuff are buzzing through the alleys connecting Song Wat Road and Sampeng lane. Shops are selling herbs, spices, ropes, barrels and sacks, a reminder of those days when the neighbourhoods was the country's main port until 1947. It still retains the port as its historic identity. The old port quarters are a world lost in time where the walls of warehouses are crumbling and peeling into a strangely aesthetic mishmash of tones, patterns and textures. It's Bangkok's Kingdom of Patina. The world of Wabi Sabi.
The world of Wabi Sabi. Local worker resting in front of an old warehouse
I submerge into the hustle and bustle Sampeng, a one and a half kilometre long market alley jam-packed with wholesale shops and an army of shoppers buying everything from belts, shoes, refill bottles to bling bling accessories, caps and perfumed paper. Whatever is sold in Thailand's provincial markets, there's a high chance it originates from here. Despite mega-malls and e-commerce it remains a crowded bazar. In fact, it's so crowded, people say that an old man died of a heart-attack but nobody noticed as his body was pressed in-between the people and carried down Sampeng until he eventually dropped.
It's difficult to imagine that Sampeng was once an elephant trail leading from the city gate of the Royal Citadel through the thick marshes to Wat Sampeng (Wat = Temple), an ancient temple on the eastern end of Sampeng. The trail's purpose was to lead prisoners condemned to death to the execution grounds at Wat Sampeng. A temple known to be the kingdom's execution temple. Its current name Wat Pathum Khongkha translates as Lotus of the Ganges River. The river where the dead find their last resting place as their ashes are thrown into the river's currents. It's between Wat Sampeng in the east and Wat Chakrawatrachawat (formerly Wat Sam Pluem) in the west where the Teochew had to settle but why did they have to settle here?
 Wat Sampeng, today called Wat Pathum Khong Kha. The final destination along the Sampeng Trail. The traces of the method of execution (for nobles and members of the royal family) can still be seen on the temple grounds. The famous Sampeng Lane in Chinatown derives its name from this ancient temple.
Walking down Sampeng, one can hear many languages, Thai, English, Panjabi and Mandarin Chinese but traditionally the dominant dialect in Sampeng is Teochew Chinese. Thailand's Chinese population can be divided into five distinct Chinese dialect groups. The Teochew account for roughly 70% of Thailand's 11 million ethnical Chinese.
In the heart of Sampeng. Intersection of Mangkon and Sampeng Lane.
Throughout 700 years of Thai-Chinese relations, the Hokkien had been the dominant Chinese ethnicity, occupying the higher administrative echelons and controlling trade with China. The 1720's saw the migration of Teochew Chinese who are said to be the rougher counterparts of the Hokkien, capable seafarers, renegades and smugglers who eventually supplanted the Hokkien's influence. They settled in Thailand's eastern coastal towns such as Chonburi and Chantaburi as well as the river basins near the coast. In part, these merchant communities helped in the resurrection of a Thai kingdom after its complete destruction by the Burmese in 1767.
The Burmese obliterated the capital Ayutthaya and ended 400 years of Ayutthayan rule. In its wake, Thailand saw the rise of King Taksin who expelled the Burmese and consolidated his new kingdom with its capital Thonburi located on the west bank of the Chao Phraya river across from a major Teochew trade post called Bang Kok.
King Taksin himself was half Teochew, a monarch of Chinese descent outside the Middle Kingdom was a feat unheard of. He received financial and logistical aid from his kin and recruited impoverished Teochew youth from China's southeastern port cities to fill the ranks of his army.
"Thailand is the only country where a Chinese can become King and is also the only country where he loses his identity."
Sulak Sivaraksa
A palace coup and the removal of King Taksin, heralded in the new Chakri dynasty which moved the new capital to the eastern side of the river to Bang Kok. The balance of influence shifted back to the Hokkien and the sizeable Teochew population was relegated outside the new walled city in safe distance to the royal palace. The marshy tracts of Sampeng became their new home and while initially the religious, political centre and the Chinese merchants set off on a footing of suspicion, it would later on become mutually reinforcing.
Map of the early settlement of the Teochew Chinese outside the walled city.
Since then, Sampeng has come a long way. It had become Siam's economic powerhouse of the 19th and early 20th century and today its unbridled and enterprising energy can still be experienced. For some people the energy and chaos can be overbearing and there's no space to retreat. No nice and chill air-conditioned cafe to recharge.
However, I escape the hustle and find myself in an air-conditioned office at the quieter end of Sampeng. The office belongs to Khun Somchai, the owner of a rope business and one of the "old guard" of the neighbourhood. His office looks more like the mission control centre for historic urban exploration. Maps wallpaper one side of the office, some are 3D hand-sketched others are prints from archives never seen before. He rolls out an old map of Chinatown. "Ahh… Do you see these two small canals here?" He points at two indistinct lines and I feel like he's checking my eye-sight. When, I sit with him I go into sponge mode. Means, absorbing everything I can learn about this fascinating part of Bangkok. "What was their purpose? They were there for Sampeng's defence. The hierarchy and patterns of alleys and canals in and around the centre indicates the Chinese concept of a balanced city." K. Somchai always brims with enthusiasm when he goes over old maps and peels away the story of the city. It's as if any visitor trying to understand Chinatown is a welcome distraction from his otherwise busy entrepreneurial life. These visitors are increasingly young people, university students, history buffs, anyone wants to get a grasp of what is Chinatown?
Tracing the origins on an old map of the city. 
"My mother always wanted to teach me about my Chinese roots but I refused. It's too complicated." His interest in his culture and the history of his community began after he overheard a university professor talking to students outside his rope shop. "Some of what he said, wasn't what he I knew growing up here, so I questioned him and was met with a condescending attitude, questioning who I was and what degree I had? That day I returned home and asked myself. Who am I?"
This question, kickstarted his ascent to become a go-to person on Chinatown in cultural and historic matters. He refers to himself as the Decoder of Chinatown who is also a connector, connecting the the city's past to the younger generation. He believes that understanding where we come from can help us elevate the status of our communities and thus build a better future.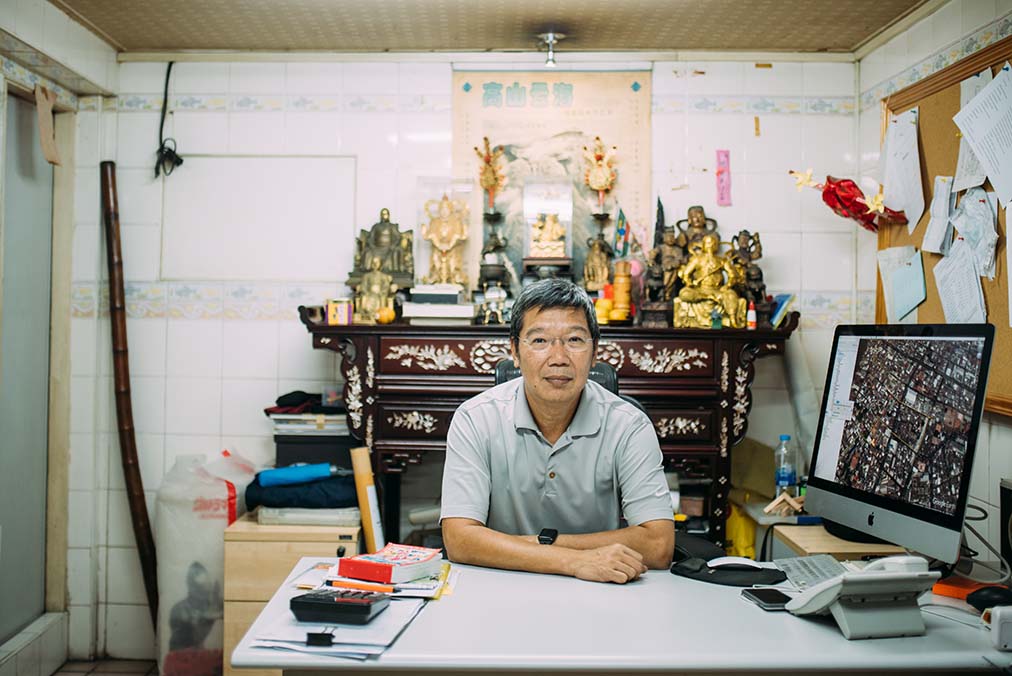 You don't have to be an archeologist to know about your history and roots.
4. The time bubbles of Sampeng – Communal shrines
The wood creaked under our feet as we venture up the red staircase to a shrine hidden on the third floor of an old building close to Sampeng. The fact that Chinatown's oldest communal shrines are found here indicates that Sampeng is the birth place of Chinatown. The exact age is hard to discern given repeated renovations, but elements that give away clues are the shrine's ancient signage, decorative ornaments and the statues. The oldest shrines are those that were brought over from their dismantled locations during founding of Bangkok in 1782 such as the Lao Pun Thao Kong shrine on Song Wat Road. Usually Sampeng's communal shrines are a lot smaller and less flamboyant than Daoist temples that emerged later when Chinatown expanded both in size and economically. They're also hidden away, deep in the pockets of the urban fabric inaccessible by car.
Chinese history encoded in the communal shrines of Sampeng and Song Wat. 2,000 years of migration and 700 years of friendship between Thailand and China. 
Each shrine location indicates either a new group of migrants arriving or larger groups splitting up and choosing to settle in strategic locations to benefit from riverine trade. One of the first steps for those groups were to set up their shrines as communal centres to create the same social conditions from their previous settlement. The Chinese population centred around Sampeng continued to grow and expanded far beyond as other ethnic groups such as Hakka, Hailam and Cantonese began to arrive in the mid 1800's. Each of these groups had their own traits, occupational specialisation and reputation and stood in fierce competition with each other. A competition that eventually subsided as communities intermingled and the Bangkok further developed.
K. Somchai in his element. Decoding the mysteries of Chinatown's ancient shrines.
The old fan rattles and incense perfumes the air when the occasional visitor arrives to pay homage to Pun Thao. Pun Thao means Basic Leader. His main purpose is to provide protection. For millennia, the sea-faring people of southern China arrived in foreign land without protection. Pun Thao became the protector of overseas Chinese and is an essential part of communal shrines in every neighbourhood and every Thai province with a Chinese presence.
Uncovering Chinatown's secrets up the red stairs. 
Pun Thao is not the only important figure in the pantheon of Daoist deities but the function of shrines goes beyond being a place of worship. They are also places to perform rituals, stage firework and Chinese opera, to sponsor Chinese weddings and funerals, welcome distinguished visitors, distribute charity to the poor and to administer justice within their community. They were the political centres from where territories were controlled by the Ang Yi or secret societies. Since there was no formal leader among the Chinese of Sampeng, these brotherhoods became an important part of overseas Chinese life, partially filling the social service vacuum in their communities and competing for influence and power. This form of self-governance was the result of the neglect by the Thai state and would cause considerable challenges in the future.
In light of the stories of secret societies, Daoism, Buddhism and Confucianism, the shrines of Sampeng have always been a mystery to me. Their hidden nature, deeply embedded in the alleys and structures of Chinatown, are like time bubbles of a forgotten era in which modernity and the concerns of modern life fade once you enter. These are moments between you and the historic and cultural enigmas imported by an ancient civilisation. They are treasures of stories, telling us about the many past generations and people who built one of the most complex, bewildering and fascinating parts of urban life in Bangkok.
Lao Pun Thao Kong close to the river also referred to as the Dragon's Head shrine
Shrines are still the cultural and spiritual centres of Chinatown's historic urban communities
5. Sampeng's heritage – Teochew cuisine on Song Wat Rd.
A walk to the communal shrines is a walk into the past of Sampeng's first human settlements. Chinatown's communities expanded and diversified from the mid 19th century to the mid 20th century as more migrants arrived. They brought with them not only bring their expertise, customs and rituals but also their food culture. It would be totally possible to base a Chinese themed food tour on the distinction of Bangkok's five main Chinese ethnic groups Teochew, Cantonese, Hailamese, Hakka and Hokkien food.
Sampeng is primarily associated for its massive wholesale market and less for its food. Traditionally Yaowarat Road has been the hub for Chinese cuisine when Chinatown was the city's economic centre and business people would visit for a few days, enjoying Chinese Chinese opera and having fancy dinners in the city's most prominent restaurants. As the economic centre shifted, theatres and old-school restaurants gradually disappeared and with that the importance of Chinatown as the city's epidemic-centre of food and entertainment. Today, the attention of Chinatown's food culture is centred around tourism with a focus on street food.
Utilising the entire animal. Common practice in the past. 
Quality Crispy pork in the hidden corners of Song Wat Road
Roaming the back alleys of Sampeng and Song Wat Road, I wonder whether there are still traditional Teochew restaurants and vendors left? After all, it's the nucleus of Sino-Thai history, so why does everyone talk about street food BBQ, which you get everywhere in Bangkok when the Chinese way of preparing dishes is to steam? What and how did people eat back in the days? Many popular street food dishes have Teochew roots but over time recipes change. Is it still possible to find the flavours unaltered and traditional in an age fast food and industrial production? Food is part of the cultural identity and heritage. Heritage goes beyond the physical or architectural history of a place but where we go we can enjoy both.
The smell of traditional herbs lingers in the air. It's the fragrance that adds to the aura of Song Wat Road. According to tales, King Chulalongkorn (King Rama 5) came through Sampeng on a merit making trip to present robes to the monks of Wat Ko. What he saw along the way shook him. The overcrowded squalor of predominantly male, Chinese, opium addicted port labor and poverty was an issue that could no longer be ignored. Like other parts of Bangkok, inspired by British/Singaporean urban development plans, Sampeng underwent comprehensive development to become Siam's economic powerhouse. In that light, in 1892, Song Wat Road was constructed along with 80% of Chinatown's total street network. Song Wat (literally means drawing of the King) was Bangkok's first trading street where Thailand's largest conglomerates were born and where Chinese went from having only a matt and a pillow into the Fortune 500.
Architecture on Song Wat Road. Business Hub of the late 19th, early 20th century.
Chinatown's first major urban transformation came during his reign. The reform King, King Chulalongkorn (1868-1910).
In between and behind the colonial buildings of Song Wat Road will not only find the stories of the Teochew Chinese economic rise but the people who preserve the original flavours of classic Teochew delicacies.
Pee Lek speaks in a soft voice. Her face and demeanour does not give away the amount of work she puts in to make Guay Jub, a comforting broth with Chinese rolled rice noodles and pork.
"Even after the port relocated, Sampeng and Song Wat remained one of the city's main central markets. Guay Jub remains a favourite among workers and business people since people remember. We use the entire animal, organs and innards but we also have a version without innards. These days, recipes have changed and Chinese three-spice powder (Palo), soy sauce and other ingredients are added. But my mother cooked it with a clear broth, seasoned only with salt, is hard to find a good version of the original Guay Jub and I want to keep the tradition up." Pee Lek
Utilising the entire animal. Common practice in the past. 
Quality Crispy pork in the hidden corners of Song Wat Road
Pee Lek and food makers like her are the institutions where people from all walks of life mingle and enjoy delicious and affordable food. They've a social hub for generations. A lunch at Guay Jub is not just a transactional affair as buying a Happy Meal at Mc Donalds. Happiness for Pee Lek comes from the interactions and relationships with her customers which she describes as being close like family members.
An old woman drops in and is happy buying a bowl of Guay Jub to go. She tells Pee Lek that she used to work on Song Wat when she was only 20 years old. Today is she's 80 and happy to see Guay Jub still is around. In a fast-changing and modernising city like Bangkok I do appreciate what I refer to as the keepers, multi-generational businesses that carry the goods and services from past generations into the present with a unique quality.
Pee Lek, the keeper of flavours
Not far from where I slurp my last spoon of Guay Jub is another indispensable culinary treat  – Chinese steamed buns or Bao. One of the alleys behind the Pun Thao Kong shrine used to have a number of families producing a variety of Chinese delicacies, including traditional Chinese sweets and steamed buns.
Where to get the best Chinese steamed buns in Bangkok? In Sampeng, the cradle of Chao Zhou or Teochew style buns.
Historic urban communities can be rooted in the ethnicity as well as specialised professions such as Buddhist alms bowls or Chinese scared paper. The number of people specialised in crafts and traditional food produced on a small scale and specialised communities is vanishing but some are still around.
Pee Wichien, Lord of the Steamed Buns
I'm just on time to see a fresh batch of warm, steaming buns leaving the steam room as Pee Wichien carries them on round rattan trays above his head. It's the last round of today and Pee Wichien is among the last steamed bun makers who produces the Teochew style steamed buns in Sampeng. He's the fourth generation of a family specialised in steamed bun making for more than a century. Chinese Bao has been China's staple for millennia. Each region boasts its own array of steamed buns. The Cantonese make the popular fluffy ones, filled with custard and red BBQ pork, widely available at Seven Eleven marts in Thailand but Pee Wichien is not considering to change his ancestors recipe or start experimenting with new flavours. He stays old school in with the Teochew-style steamed buns from Chaozhou, making them as generations a century ago enjoyed them.
Pee Wichien was born right above the Bao workshop and has been helping his parents and grandparents since he was a young boy. He's still working from his family's home, using the same recipes and the same steam oven that his family has been using for four generations.
When he was young there were many workers working for the family. It was a busy place and well known. His mom was the boss. They worked 24/7. Now, he works mostly alone or with his assistant, depending on how busy he is but he is content. He never appears to be bored of his work and just like Pee Lek, appreciates his customers who keep ordering his buns for occasions such as birthdays, weddings, and as spiritual offerings. I usually pre-order them as well and eat them straight from the steam oven, as an offering to the insatiable spirits of my bowels.
"It has become quiet, most people either passed away or moved away and much of the solidarity and social cohesion is gone too. In the past everyone in the community treated each other as relatives" K. Wichien
Pee Wichien and his long time friend supplying Chinatown with locally made steamed buns
Pee Wichien's living and work place is based in an old building known as the house of ten rooms. Back in the days, many families shared the smallest of living space to the point where they had to take turns to sleep. During Pee Wichien's childhood, Sampeng was still a rough place but nothing compared to when his grandparents grew up here, when public utilities were rare, fires frequent and the need for lavatories urgent. Only the wealthiest could afford the privacy of using a chamber pot at home to "do their business". Ordinary folks used their gardens and orchards but good luck finding a garden in Sampeng! The naked butts of port workers squatting over the jetties were such a common sight that Sampeng's waterfront became synonymous with going to the toilet. Even today, some elderly recall the term Kongsi Long (going to the loo). Resourceful entrepreneurs took the opportunity and collected the feces from the homes and sold them as fertilizer to the farmers. Those days are long gone and with them the aroma coming from the drains running on the side of the alleys.
Each alley has its own history. 
He takes me on a walk through the alleys his neighbourhood, toilet spots and fire exits remain in the subconscious mind. Had he taken me time travel, we'd need wooden planks to help us to cross a muddy quagmire he laughs. He remembers vividly his mother's strict rules to keep him and the workers away from the drugs. Heroine was a big community problem, a legacy from Chinatown's rampant Opium addiction. Opium, prostitution and gambling, Sampeng up until the sixties would make Pattaya today look like the Vatican. He tells me stories of those notorious alleys that parents once dreaded, such as the suicide alley or Trok Pee Dip, the zombie alley, an allusion to the junkies that haunted the neighbourhood. The right stuff for a night-walk.
The last opium dens and brothels shut their doors in the 1960's but some alleys have retained the names of former brothel owners. We bump into an old ruined mansion. Towering like a mini Angkor Wat, it offers a morbid view into the world of 200 years ago. We stand in silence. You can feel history. You can get an idea about how those who could afford a chamber pot lived. Most of these magnificent houses are gone. They fell victims to fires or his majesty's urban upgrades of were simply replaced by buildings with a questionable taste.
Lost worlds in a place known for its bustling markets.
Sampeng as Chinatown in general seems defiant to city authorities who are hell bent on injecting their idea of safe, clean and convenient into Bangkok's unruly neighbourhoods. It's the very fact that Sampeng has never attempted to be appealing to tourists that makes it so fascinating. It still remains unchartered urban territory for many. It's a raw and unmanicured part of Bangkok that retains its secrets and provides us with space for exploration instead of offering everything up without making an effort. Only by leaving your comfort zone and diving into the alleys which can be shortcuts into forgotten worlds. Place which are too deep, too narrow, too difficult to park your car let alone move any large construction machinery to develop a large project. Change however is coming to Sampeng and the rest of Chinatown, in large scale and small scale. Land prices is increasing, investors are moving in. The MRT has linked it to the rest of the city. Change is complex. It's culture, demographics, economics, it's top down and bottom up, it's good and bad.
Following hundred + years business practise
Sharing his love for the history of his community
People like K. Somchai and Pee Wichien are trying to adapt to the change and preserve what's within their control. Whether it's the knowledge, stories, images or food recipes. That's what we aim for, keeping the memories and inviting you to experience the change, the past, present and future of places hidden from our busy day to day world.
Bangkok-based experience designer, blogger, tour guide and hobby anthropologist.
I explore and introduce you to the places, people and ideas that matter