02 Jun

Keeping Chinatown's memory alive – by Khun Somchai

Chinatown's or in Thai: Yaowarat boasts a personality where east meets west. The Sae Heng Lee Building is an example of this. It shows a mix of Hong Kong and Shanghai.

Unfortunately much of the distinct Chinese architecture disappeared after a big fire a long time ago. Also modernisation takes its toll on the architectural heritage but there is still some of the old days left. One of these places is Talad Noi, the Chinese East Market. Buildings there are distinct Chinese in contrast to Charoen Krung Road which became the west market, there you'll see more European style architecture but both are part of Chinatown.
Building connections between youth and the heritage of the city
I hope we can keep the diversity for young people to see the beauty and importance. But how can we get young people interested in the old cultures and to support the historic communities of Bangkok? I spent ten years and managed to attract a few hundred people. Then came the Buk Luk urban art event. They were never really engaged with our culture and they managed to do that in less than a month. How did they do it?
They created graffiti, they created the elephant mural on Song Wat Road and over a thousand young people came. The people enjoyed the art work but also found other beautiful places. They saw all the small details of the neighbourhood and said: "hey that's an old building, wow that's beautiful". That is exactly my goal. Sharing our passion for this area, telling them about the stories of the people and culture.
Attracting the attention to Bangkok's old communities through art.
Can we go beyond art to elevate the status of old districts?
Food. If you recommend the best Chinese food experience, this will raise the value of the area and makes everyone happy. But was is also important when you visit? Timing! Lets say we're going to visit my friend's Salapao (Chinese steamed buns) workshop. I know they finish making buns at 4:00p.m. That's the time when you stop by to have them. When they come fresh from the steamer. It's so delicious. The owner is very proud too. He will tell you the history of his business, that they have been making Chinese steamed buns since his grandfather and so on. But, if you come here, let's say around 2:00p.m. they are busy working and preparing and cannot talk to you.
Somchai's steam bun friend. Come at the right time to experience the locals.
Coming to the right place at the right time is a good way to support the community.
Will food and art be enough to save the heritage of our neighborhoods?
There are big challenges to preserve our communities and old neighbourhoods. Some historic communities could not be saved. My friends published a book with the story of the people of the Woeng Nakhon Kasem community.
Most of the people in Woeng Nakhon Kasem came from Chai Jo Keng Ia, a province in China. They are different from people of other neighborhoods. The people from that area were very hard working and very smart. They had a lot of ideas and became rich during and after WW2. At that time Thailand could not import any motors. So, the people of the Woeng Nakhon Kasem community specialized in repairing and making motors, water pumps or motors producing electricity. For a time it was the only place to buy a water pump in Bangkok.
You can see the way the Keng Ia people arrange their shops. Every centimetre is used for display. There is just enough space for one person to get either in or out of the shop. The way they stack their products is art in itself. A lot of shops also sold records or sold and repaired all kinds of music instruments. Woeng Nakhon became the go-to place for anyone practicing or interested in music.
The success of the community is reflected in the way the people designed their houses. Modern Chinese preferred European influence. They changed the names of their shops to English names. So Kuan Heng Seng became KHS. It was popular to become western.
What happened to Woeng Nakhon Kasem?
Now, all the shops are gone and with them the spirit is gone and charm. They have spread far and wide. It's sad that Woeng Nakhon Kasem disappeared but I also have to accept that things change all the time. 
Change is coming and what can we do about these big changes? I love my neighborhood so what I can do it to take a lot of pictures. I keep the good old days in my memory and send them to younger people like you, my son and my students. To show you what it used to be like. When I started, people thought of me as the crazy guy with the camera, back then they'd look at you in a strange way but now it pays of. I was able to support the people in Woeng Nakhon Kasem by giving them old pictures from my archive. These can be used to keep the memory of this neighborhood in form of a photo-book.
We also asked people to provide us copies of old pictures. Having this documentation is good but we will wait until we show it to the public. If we show it now, you'd only see that Woeng Kasem is dead. But if we wait until the new Woeng Nakhon Kasem is born then we can show you the memories and the difference past and present. We can show you the spirit of those who lived there and the beauty of Woeng Nakhon Kasem. I used to tell my friends in Woeng Nakhon Kasem, they will never die.
Want to learn more about Bangkok in times of change?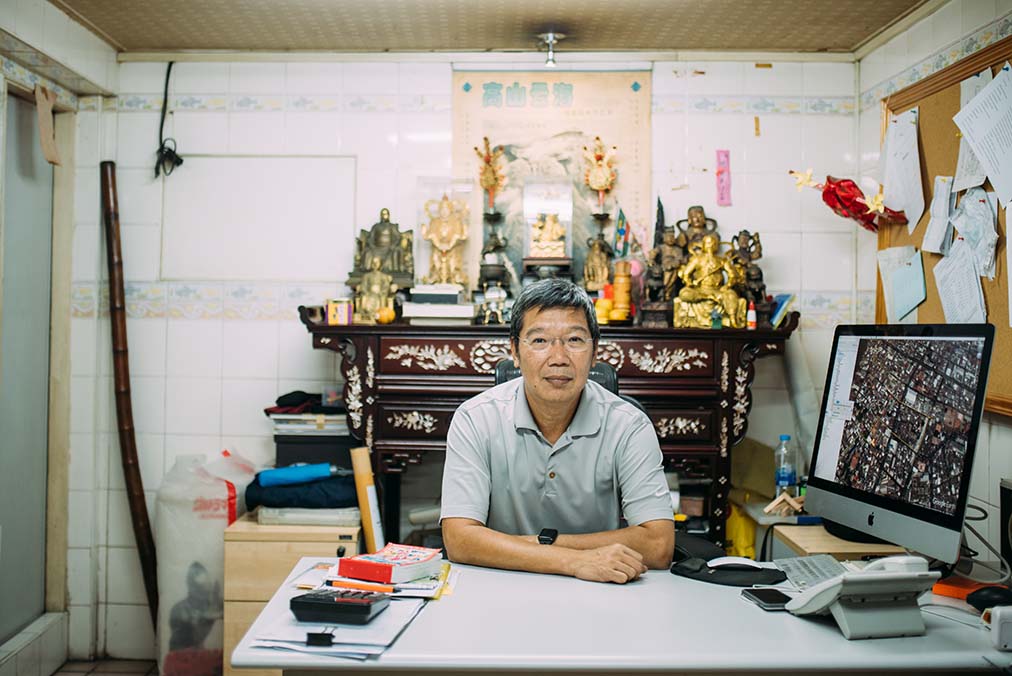 Bangkok-based experience designer, blogger, tour guide and hobby anthropologist.
I explore and introduce you to the places, people and ideas that matter